The course that adds lead guitar playing to your fingerpicking.
Getting to the next level

Tony was a student of mine who became really passionate about guitar when he learned to fingerpick. He just knew that this was the style of guitar playing that was his – playing or listening to fingerpicking became one of his favorite things to do and he made great progress in the space of a few months.
Tony wanted to apply fingerpicking to more than just chords. He wanted to take melodies and scales and play those while fingerpicking. In particular, Tony wanted to play a fingerpicking version of one of his favorite songs (Sultans of Swing), but the melody line required some detailed articulation (applying hammer-ons and pull-offs). It just wasn't possible for him to fingerpick it.
Tony tried learning scales but couldn't really incorporate those into his fingerpicking. It felt like another world. He also tried to learn some other advanced songs which he had some success with, but that didn't help his overall playing much. Finally Tony found himself trying some random lessons on YouTube – and you guessed it, while great fun, this also didn't move the needle on his overall playing.
I developed a new learning strategy for him - how to start adding lead guitar techniques to his existing fingerpicking patterns he knew - and it worked! He's a great player now. The secret is to have a framework that builds up your technique in manageable parts. This step-by-step improvement can have a remarkable end result. That's what this course is.
Whatever you do, avoid these learning strategies...
There are 3 mistakes I constantly see people making that derail them and crush their chances of achieving true fingerstyle mastery..
While teaching 15k students in recent years, I have seen students describe each of these approaches as not being effective ways of getting to the next level.
If you have been adopting any of these approaches, you'll probably know already that your level of success isn't what you hoped.
1) Learn as many chords and scales as you can and practice until you sound good.
You might think: "It's all about putting the time in!"
Reality: It is not easy to learn some chords and scales and suddenly sound good. You need to get musical reward from playing - particularly in those first few hours of guitar or first few hours of a new technique. That's how you stay engaged.
If you started learning scales and chords on their own, you probably got bored after a while and didn't keep playing .
You need to follow a plan that excites you.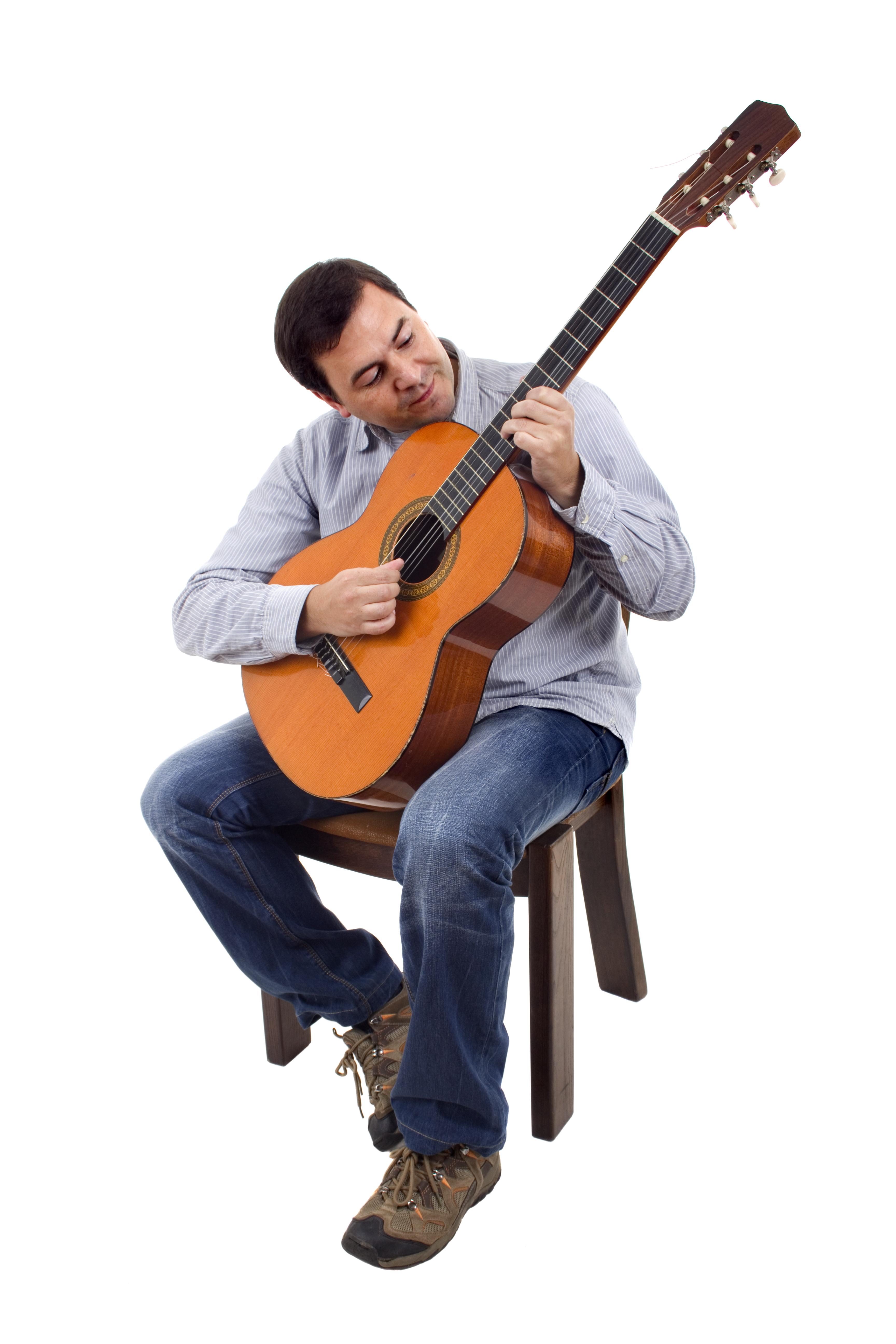 2) Browse random YouTube guitar lessons with no structured component to learning.
You might think: "The more lessons I do, the better I will become"
Reality: Putting the time into practicing is important, but it's vital to make sure you are practicing the right thing. Perfect practice gives you great results. Bad practice teaches you bad habits. It's about mastering the guitar rather than just noodling around.
If you have watched lessons before on YouTube, you'll know that you don't get drastically better in a few months. You'll be frustrated. There is something in you that knows that you would put the time in to take a serious step up. 
You need to make your practice time count.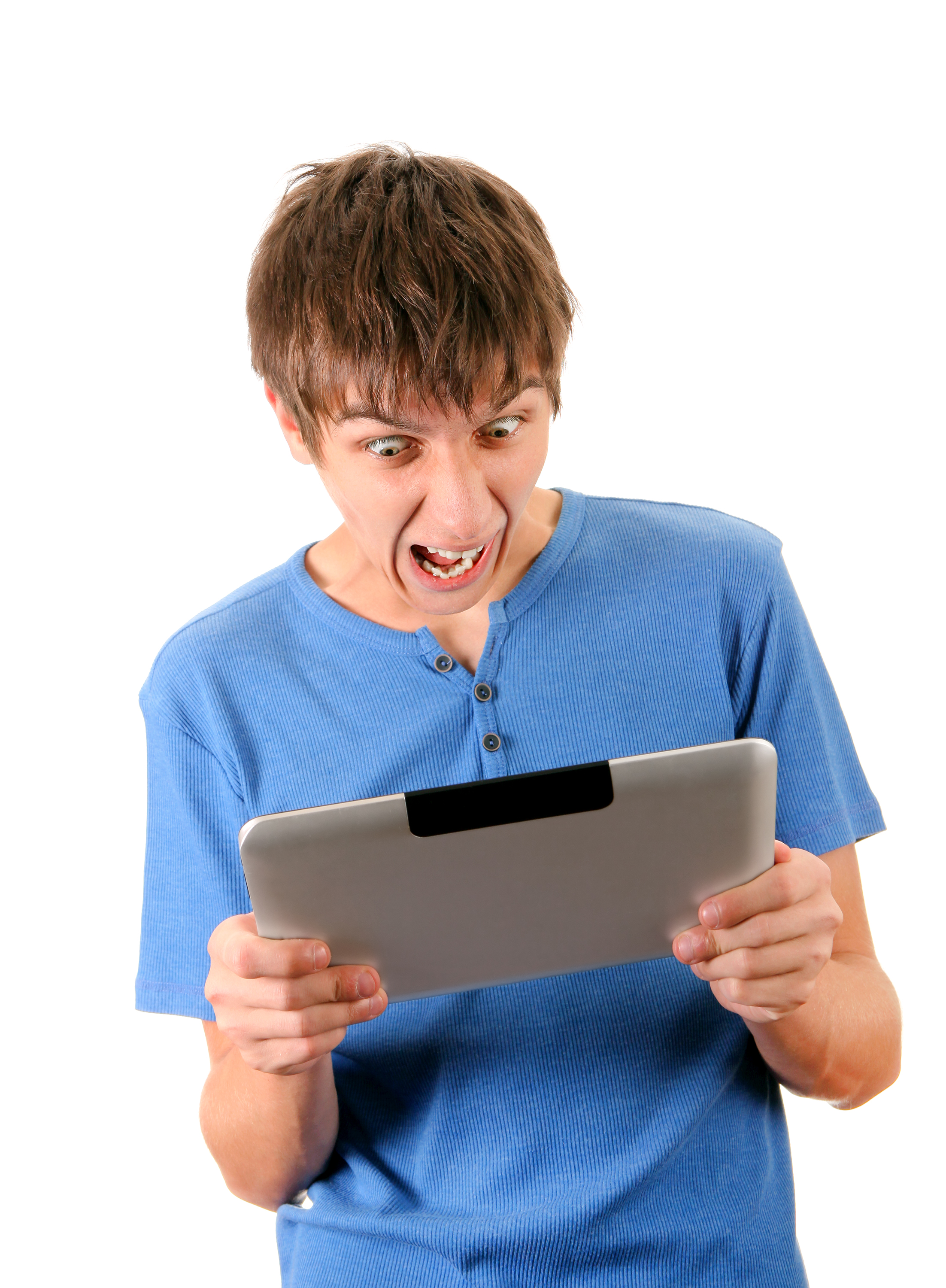 3) Watch videos by the best guitar players and just try to 'figure the song out'.
You might think: "I can learn by just watching"
Reality: The right exercises at the right time broken down into manageable pieces - this is how students in any discipline progress quickly. Just watching the great guitarists play doesn't help you build up technique with the right difficulty. It's just like being in a gym, you don't want to lift weights that are too little nor too heavy.
If you tried to just learn the complex songs of other guitarists without any work on your technique, that's why your progress is behind your potential.
You need to structure your learning plan.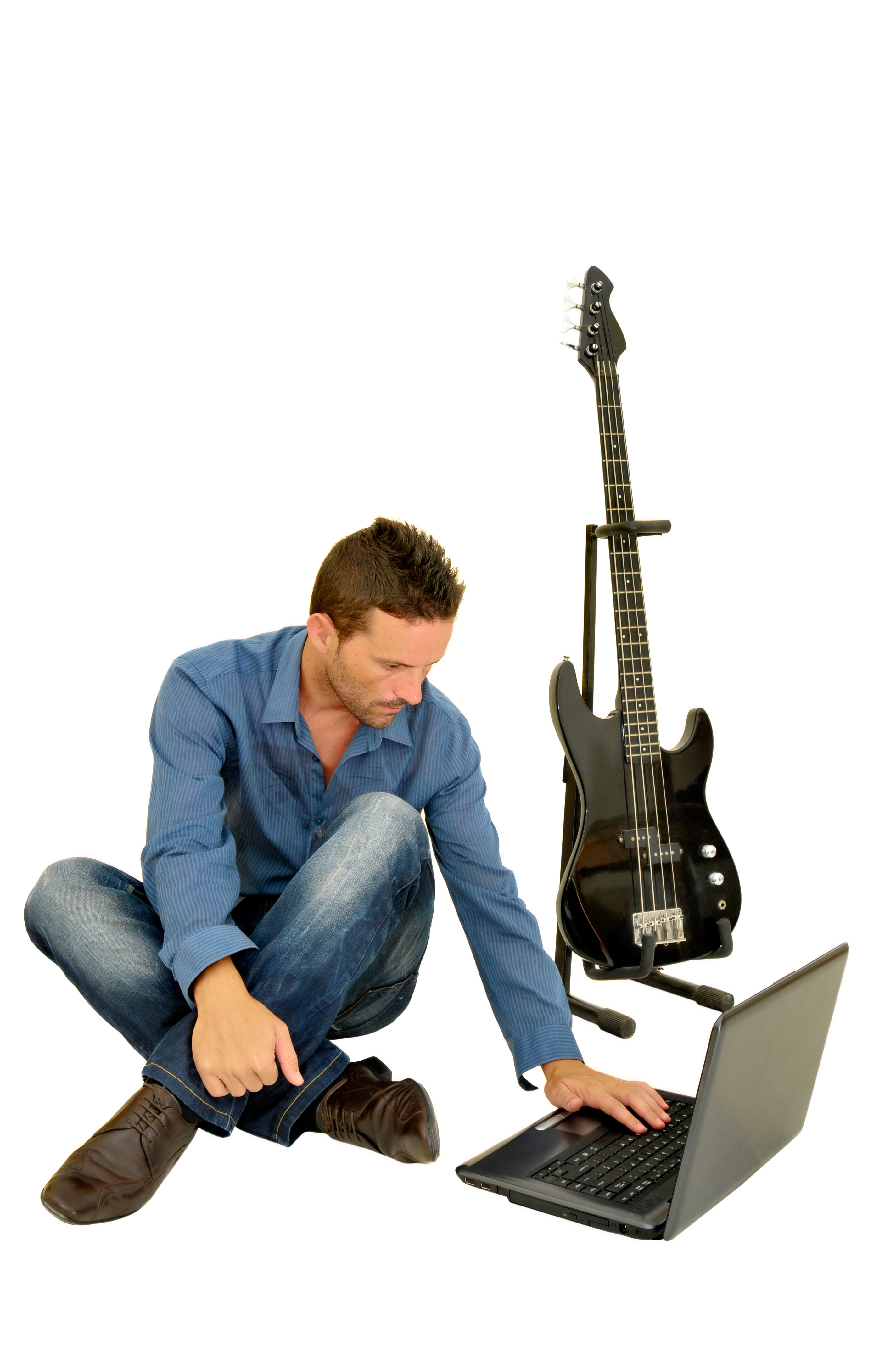 Take it to the next level
Learning fingerstyle is one of the most rewarding experiences for a guitarist. Once you have mastered some of the basics, the question is how to take it to the next level - in the shortest time possible.
This course helps the intermediate fingerpicker to grow as a guitarist and as a musician. It breaks down how to get to the next level of being a fingerpicking musician - developing such a sense of mastery that listeners think they are listening to three guitarists when you play!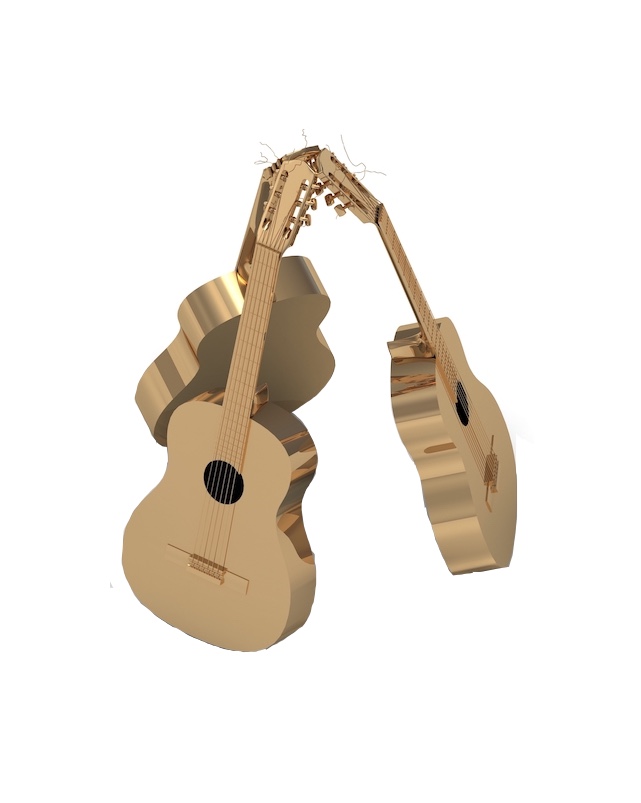 Mastering the '3 Guitars' Effect
This course will transform you as a musician.
Today you can play a few chords and even play some fingerpicking patterns.
After this course, you'll be a guitar player that causes people to say 'wow' when they watch you play.
You will be able to play any melody you like while keeping your bass line going and you will add chord strumming to both of those – giving you the effect of 3 guitarists playing at the same time.
I call this the '3 guitars' effect and this will completely transform how you see and play the guitar.
This course gives you all the techniques you need to achieve this - scales, melodies, bass lines, articulation, hammer-ons, pull-offs, muting, chord flicks, the boom-chuck pattern and more!
Intermediate Fingerpicking is optimized for your success
This structure of this program is designed to help you get results immediately:
A structured framework of 22 small parts.
That fit into a 15 minutes a day practice schedule.
Where each session gives you an exercise to practice at the end
And the following session will give you tips if you found that exercise challenging.
By the end of the course, you will have made huge progress (through 30 tiny steps that add up).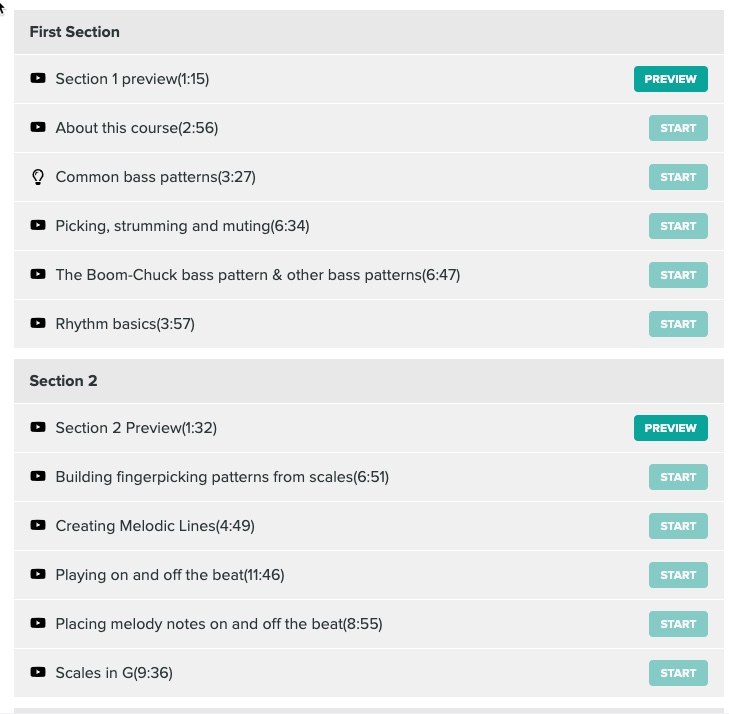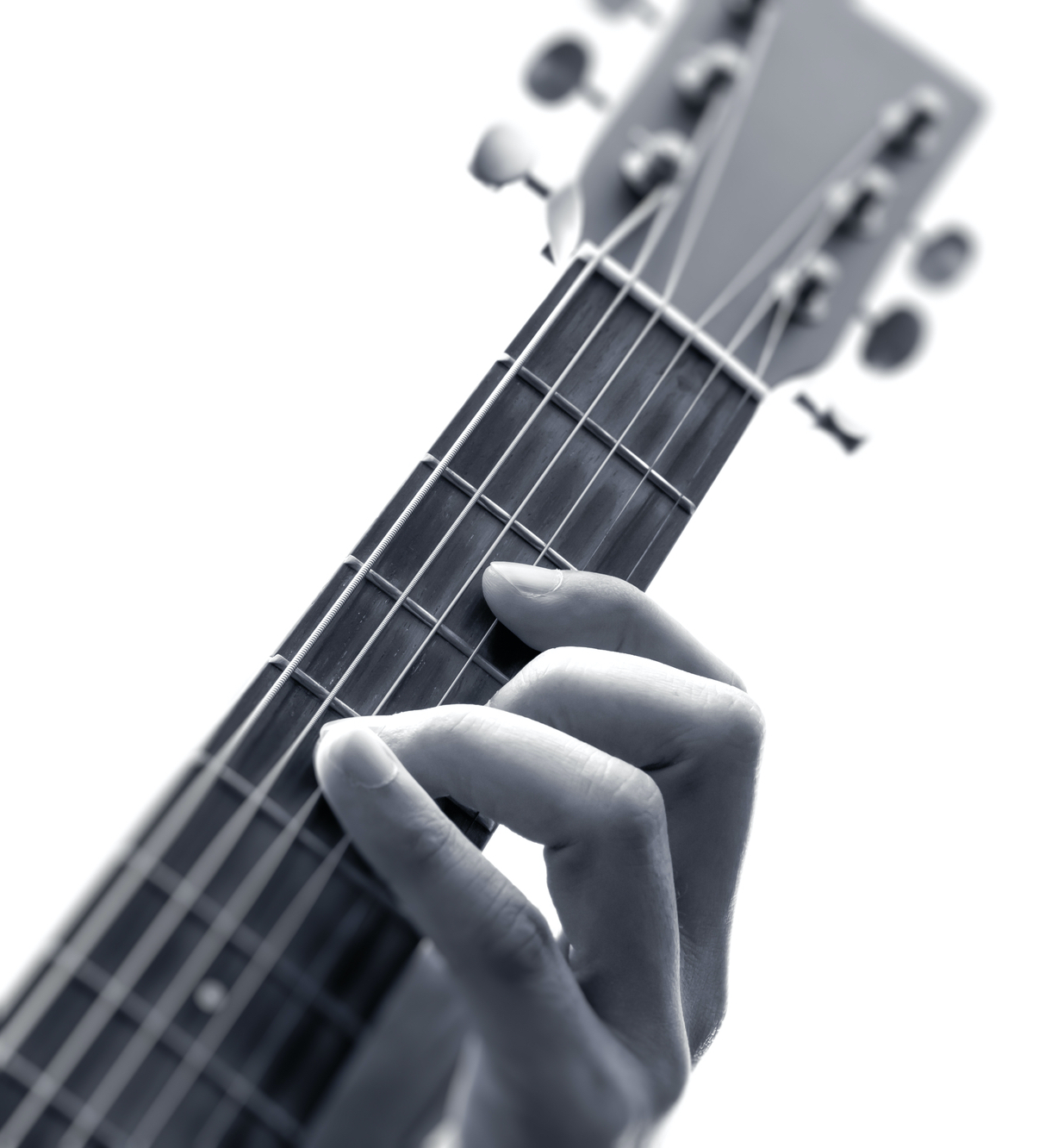 You will enjoy playing guitar more than ever - now that you not only play chords but also explore melodic ideas
You will enjoy knowing that each minute spent on guitar brings your playing up a level - instead of just playing stuff you already know.
You will be able to progress at your own pace, moving on when you master a section - in your own time and safe in the knowledge that you massively improve your playing.
By the end of this course, you will be able to:
play scales
understand how to construct melodies
learn the fundamentals of reading rhythm
weave hammer-ons and pull-offs into your melody lines
learn how to fingerpick a simple 12-bar blues in E
develop a completely independent left and right hand
play the boom-chuck pattern
play several advanced fingerpicking pieces
What's included


The Intermediate Fingerpicking course offers you a structured learning scaffold that makes you better each day.
So you sound musical from day 1 and achieve rewarding progress each day.
The course has 22 lessons - each lesson has:
high definition video
multiple camera angles (so you can see what each hand is doing
a lesson PDF
guitar tablature for all parts
helpful hints for nailing the last exercise if you found it a challenge
Summary of what's included
●     Lifetime access to the Intermediate Fingerpicking course
●     22 lessons with video, PDFs and guitar tabs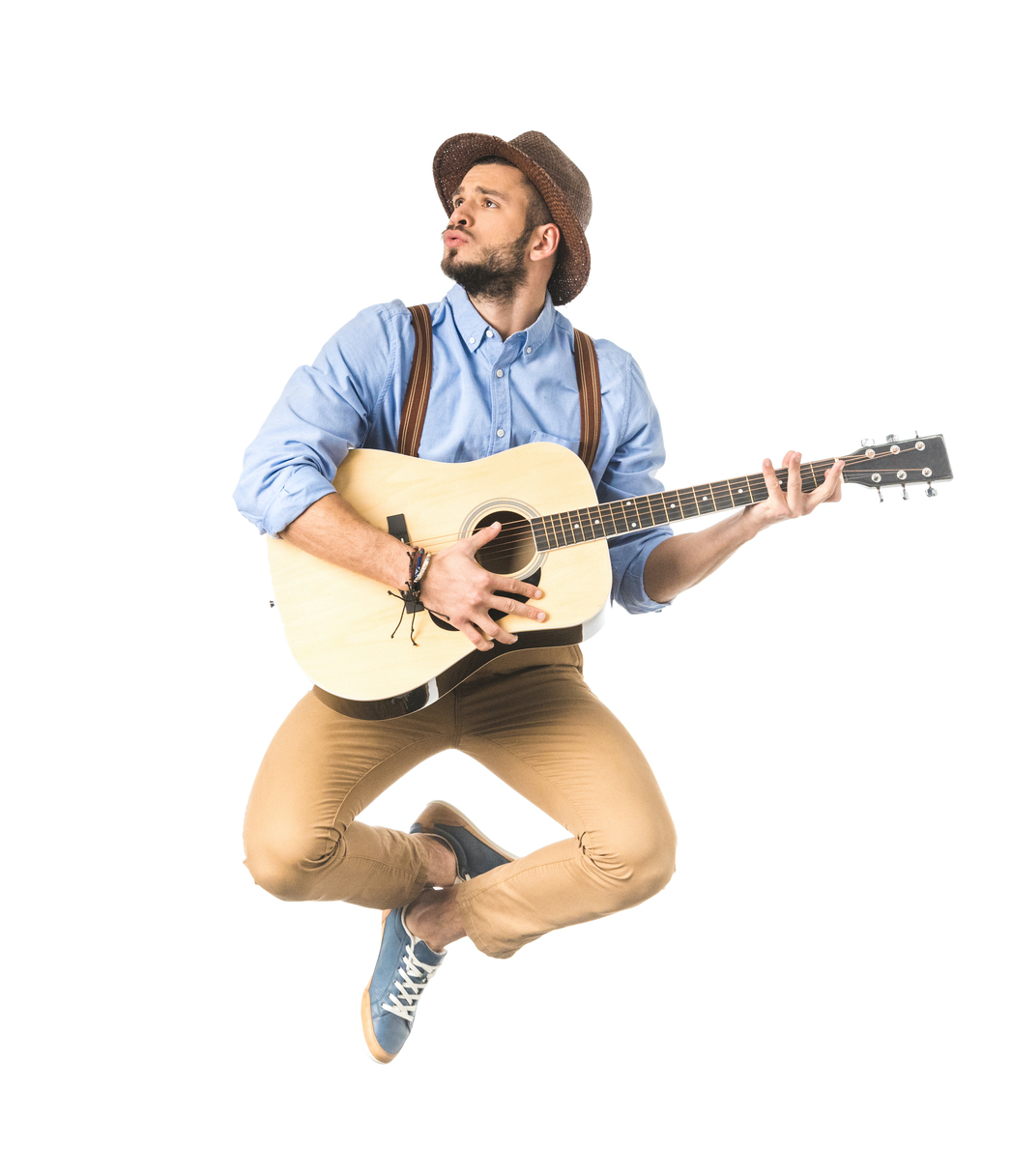 What does life look like with this course?
Once you begin:
You'll be able to study and master exactly those techniques you need to add melodic playing to your fingerpicking - with just 15 minutes a day. 
Due to the structure of the course, you will feel a huge improvement in your guitar playing that is almost effortlessly acquired. Each lesson will give you a new stepping stone, and the sum total of all the lessons is that your playing will take a huge leap.
You will not encounter any 'jumps' in the material that suddenly mean that you are lost or unable to continue the course because I supply tips at the start of each lesson for those who found the last exercise challenging.
Once you finish:
Your musicianship and fingerpicking will have jumped a huge level and people watching you play guitar will be genuinely impressed.
You will be able to:
Take any melody that you are able to play – AND any bassline that you're able to play and blend them together to make a fingerstyle arrangement.
Mix playing a melody, strumming chords and playing basslines all into one guitar part that gives you the three-guitarists-playing effect.
Wow people when you bust out your guitar at a party by playing a fingerstyle blues – and jam with other musicians who are playing a blues number.
MODULE 1 - Alternate bass, chord flicking, muting & boom-chuck technique
In this module, we begin to construct the skills for the 3-guitar effect, including:
2 note and 4 note bass patterns 
Exploring bass patterns of C, G, Am and F
Bass patterns over E, Em and A
Strumming chords between bass notes
Chord flicks
Right-hand muting
Multiple ways of playing barre chords
The boom-chuck

technique

Keeping solid rhythm
Putting it all together
After learning these techniques in module 1, you'll be able to play the exercise in the video below.
MODULE 2 - Constructing Melodies
In this module, we explore strategies for constructing melodies, including scales, arpeggios and timing :
Using scales to develop melodies
The major scale in various positions
Left-hand fingering tips
Cycling melodies
Ascending and descending scale fragments
Adding alternate bass to melody patterns
Adding space to melody lines
Changing the underlying chords over a single pattern
Rhythmic placement of melody notes
Adding arpeggios to melody and bass
After learning these techniques in module 2, you'll be able to play the exercise in the video below.
MODULE 3 - Articulation and phrasing
In this module, we begin to construct the skills for the 3-guitar effect, including:
Explore the concept of articulation
Add hammer-ons to melody phrasing
Adding pull-offs to melody phrase
Blend hammer-ons and pull-offs into your bass playing 
Play hammer-ons and pull-off 'flurries' melodically
Learn the 5-3 bass pattern
Syncing lead notes with our bass
Syncing target notes with our bass
Learning a complex fingerpicking piece
After learning these techniques in module 3, you'll be able to play the exercise in the video below.
MODULE 4 - Fingerpicking the blues
In this module, we begin to construct the skills for the 3-guitar effect, including:
Learn the format of a 12 bar blues progression
Fingerpick a 12 bar blues bass line in E
Fingerpick some blues riffs for your melody parts
Apply muted bass to your 12 bar blues
Playing a blues turnaround
Learn a full 12 bar fingerpicked blues song
After learning these techniques in module 4, you'll be able to play the exercise in the video below.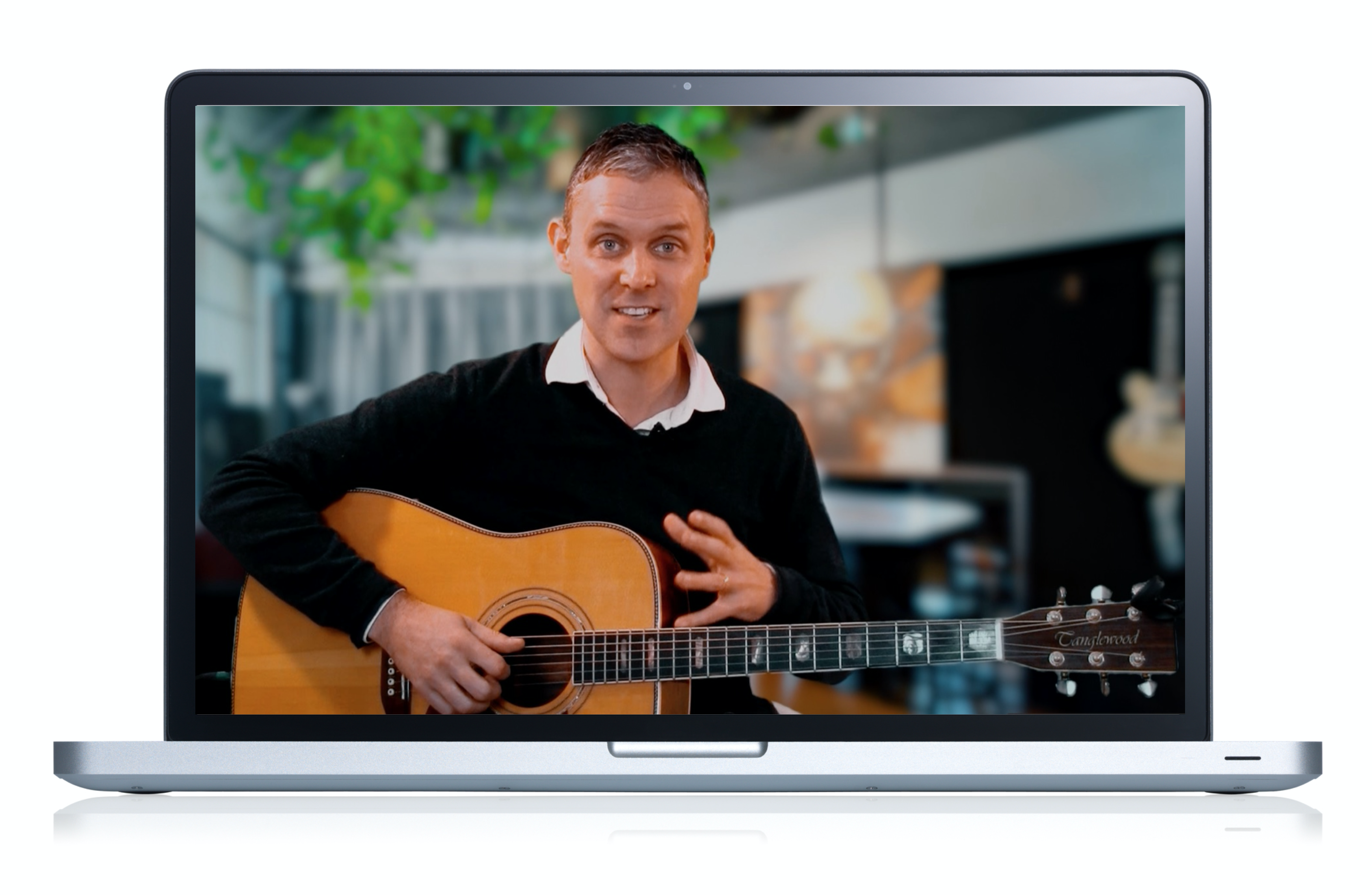 Bonus 1:
Four weekly 1 hour fingerpicking clinics
Once a week for 4 weeks, I will host a live clinic where you can drop in and all students can literally ask me anything / share what they'd like help with. These will be recorded in case you can't make it.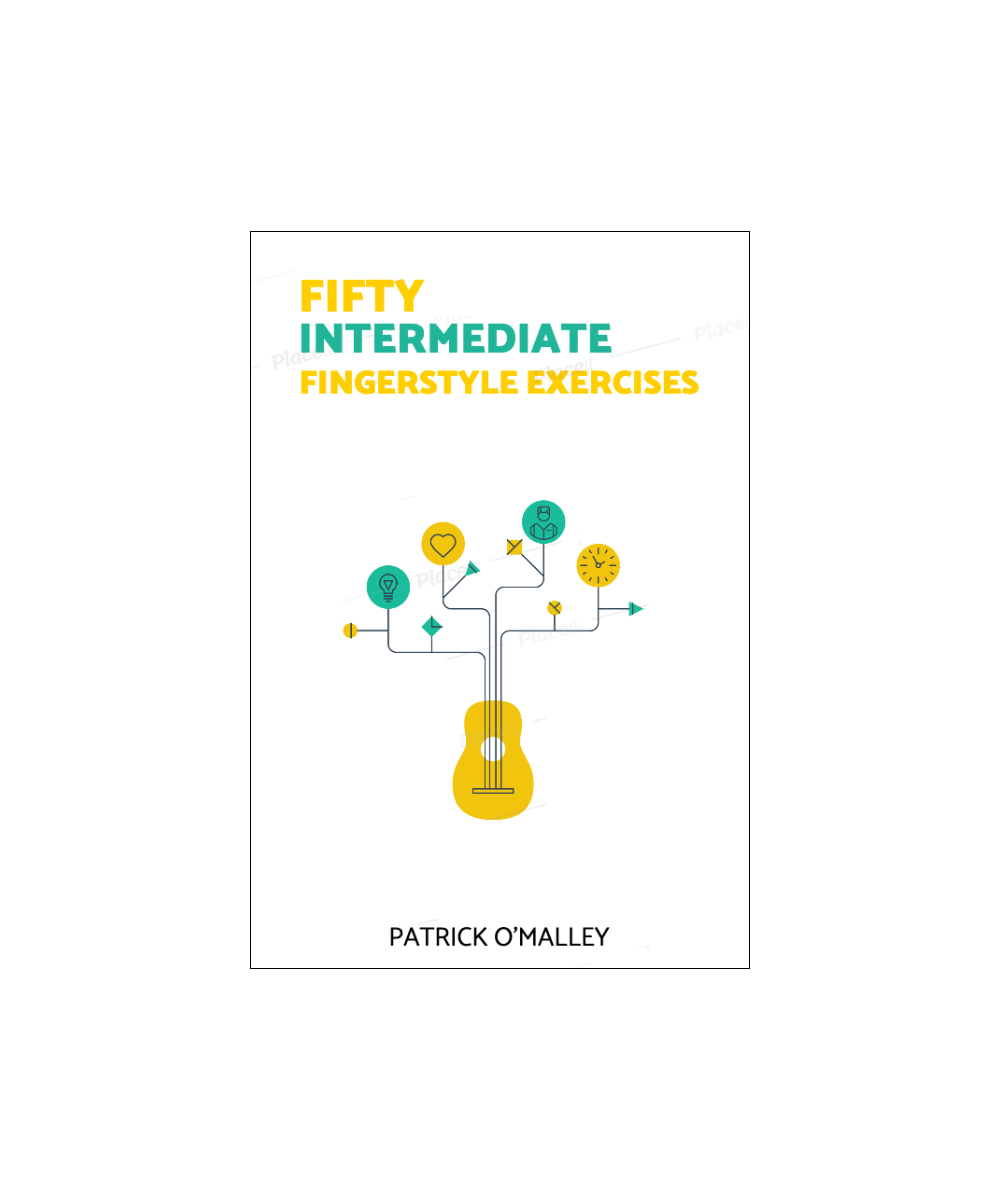 Bonus 2:
50 Intermediate Fingerstyle Exercises
This eBook is a set of 50 practice exercises that are additional to the exercises in the course.
These exercises expand on the techniques in the course helping you to apply what you have learned.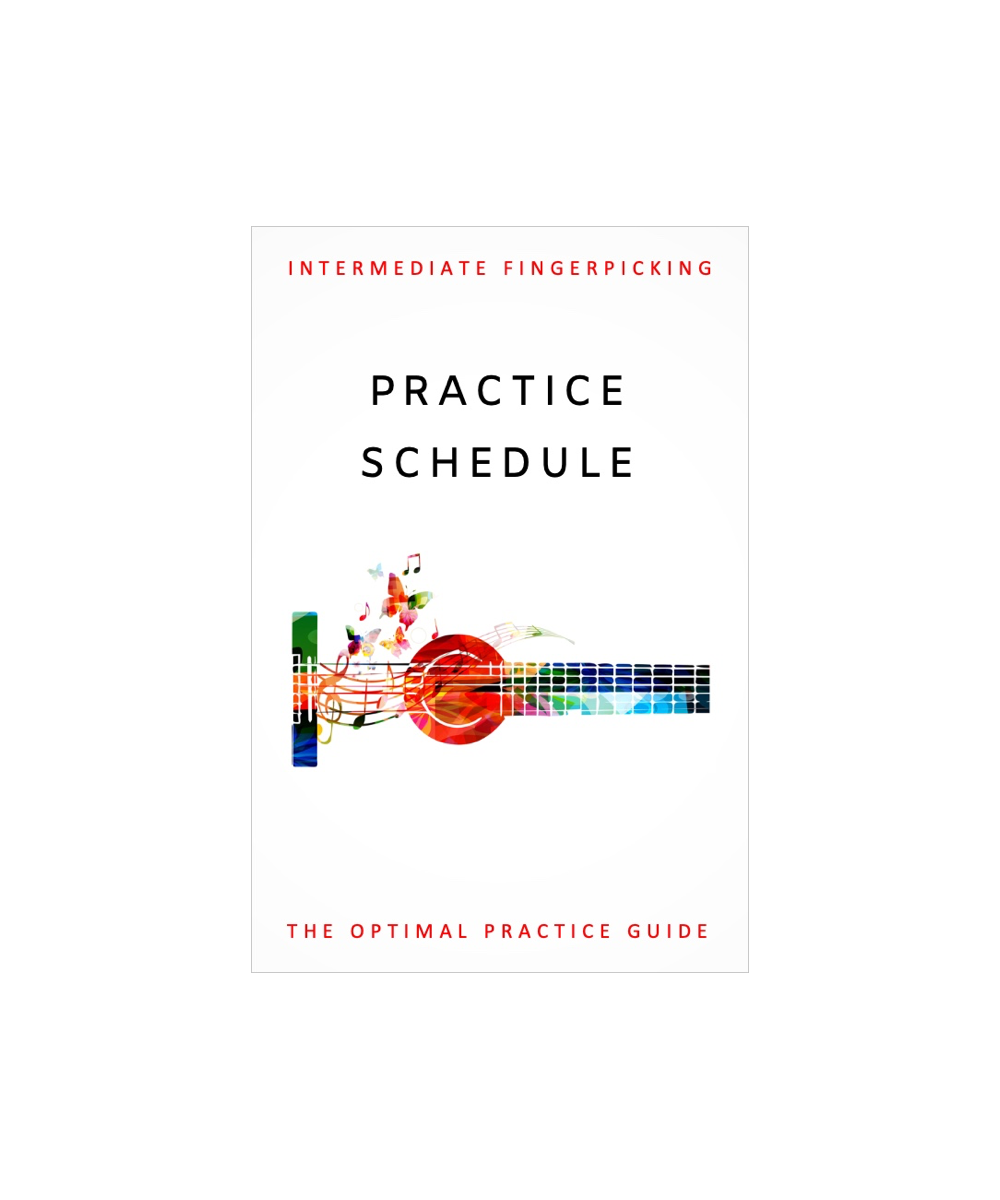 Bonus 3:
Intermediate Fingerpicking Practice Schedule eBook
This resource gives you a 15 minute practice schedule every day for 90 days that helps you know what to play every day to make the practice you need to complete the course.
VIP Product - What's included


The VIP Intermediate Fingerpicking package offers everything that you get in the standard package plus regular 1-1 guitar lessons with Patrick.
Once you enroll in the course, Patrick will evaluate your playing and and help you define your dream goal
Patrick will create a custom 6 month plan to help you reach that goal
Every 2 weeks, you will do a 1-1 lesson together (30 minutes) to ensure your technique is perfect
This is basically a guarantee that your playing skyrockets over the course of 6 months.
Spaces for the VIP program are limited to 5 at any one time - so please understand if spaces are sold out.
Testimonials
Tony Marsilio
"This course was a good match. I've been working on fingerpicking style for a while now with mixed results. This course explained things and provided pieces that moved me forward pretty quickly. The blues still needs practice but I'm getting there. I've always wanted to pick the blues. Now i have the skills. Thank you."
John Roberts
"Excellent presentation in easy to learn segments. I appreciated the seamless integration of scales and learning how to create melodies within the context of the piece of music being taught. Highly recommended to anyone who has a basic grasp of chords and some fingerpicking."
Matthew Leitch
"The course is exactly what I was expecting. Good pace and great information."
Peter Tangredi
"Love it. Just the right speed for me. Very well explained and a fun progression."
Chris Allen
"Patrick's course is a great way for guitarists to begin learning fingerpicking style guitar playing. I've been playing guitar for 20 years, but had never really learned to play in the fingerpicking style, so I really wanted to get back to basics and learn the style in a methodical and structured way. This course has provided me with exactly what I was looking for, with the added bonus of an instructor like Patrick, whose lessons are clearly communicated in an engaging and relaxed fashion.
I highly recommend this to anyone looking to learn fingerpicking on the guitar."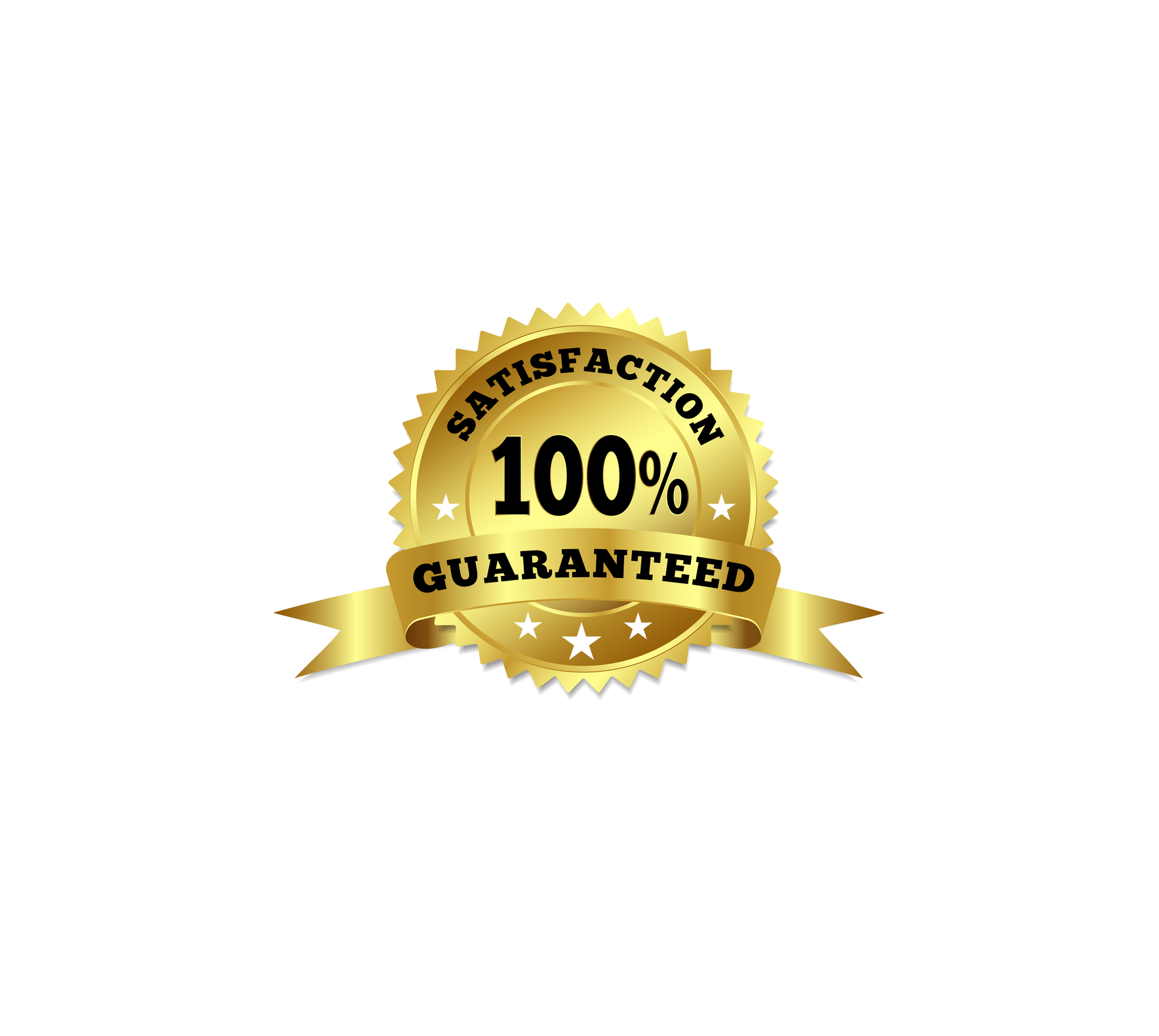 My personal gaurantee
I guarantee that you will make progress with this course if you put the time in and do the work. I gaurantee that your fingerpicking will be transformed!
If you play 15 minutes a day over the course of a month and do not notice a significant improvement that transforms your fingerpicking - then I will personally give you your money back.
FAQ
What materials will come with this course?
Each lesson has a HD video with three camera angles (full, left hand and right hand) so that you can zone in and see what each hand is doing.
Each lesson also comes with a downloadable PDF and the relevant music tablature for each lesson.
Who should take this course?
This course is ideal for students who can play a few chords and perhaps have done a small bit of fingerpicking on an acoustic guitar previously.
The course is a natural follow-on from my first course - From Zero to Guitar Fingerpicking in 30 days.
Who should not?
If you have never played a guitar or cannot play a chord on guitar, try instead my other course - - From Zero to Guitar Fingerpicking in 30 days.
If you know a few basic chords - most of G, C, D, E, E minor, A and A minor - then you'll be fine to jump in.
What will students need before starting the course?
Students will need to have a guitar.